THAT WHICH COLORS THE MIND©: THE LIFE AND MUSIC OF NIKHIL BANERJEE is a one-hour educational television documentary that celebrates, for the first time on television, one of the twentieth century's greatest musical geniuses, Indian classical sitarist Nikhil Banerjee. The documentary will present an in-depth examination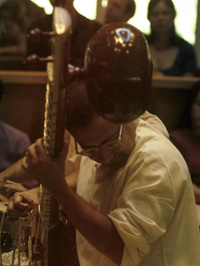 Photo © Louise Scripps

of Nikhil Banerjee's enormous contribution to world culture through his unique gift, an extraordinary ability to transcend musical and cultural boundaries with his masterly playing and selfless devotion to his art.

The structure of the documentary will be a chronological study of Nikhil Banerjee's development as a sitarist, starting with his early musical influences and studies as a boy in Calcutta, India. It will continue with his recognition as a child prodigy and subsequent success as the youngest performer on All India Radio; his apprenticeship with the esteemed maestro Allauddin Khan; his continuing studies and close personal and professional relationship with Allauddin Khan's son, master sarodist Ali Akbar Khan; and his emergence as an outstanding sitarist in his own right. The documentary will further outline his growing professional and critical achievements as well as his lifelong development and commitment as a serious artist. Nikhil Banerjee's relationship with the West, through his many years of teaching and performing will also be examined, along with an analysis of the specific role he played in helping to bridge the cultural gap between India and the West. Nikhil Banerjee's unique contribution to world culture will be viewed within a "world music" context.

Nikhil Banerjee's accomplishments as a performer, educator, and cultural ambassador will be explored as a great loss and tragedy in light of his untimely passing. The documentary will conclude with an evaluation of and appreciation by his contemporaries, peers, scholars, critics, and students, of his lasting legacy, and of the contemporary value of Indian classical music in a multicultural world.



THAT WHICH COLORS THE MIND©: THE LIFE AND MUSIC OF NIKHIL BANERJEE will use archival film and video performance footage to demonstrate how Nikhil Banerjee's interpretation of Indian classical music significantly expanded the traditional understanding of the genre of classical music in India. Still photographs from Nikhil Banerjee's life will be liberally intercut throughout. Interviews with contemporary musicians, scholars, students, and his associates from both India and the West will help provide a comprehensive portrait of the man and his music. Nikhil Banerjee's sitar playing both on and off screen will be interwoven throughout the piece, creating mood and maintaining a continuous presence. Excerpts from television and other interviews will allow Nikhil Banerjee to speak in his own voice about his music.

The documentary will conclude with a summation of Nikhil Banerjee's inestimable contribution, and that of Indian classical music, to a world where conformity of culture often overlooks the wonderful tapestry and enriching quality of multicultural diversity. Nikhil Banerjee's life will be celebrated as evidence of how such selfless devotion can bridge musical and cultural boundaries to touch the lives of so many people throughout the world, to improve their quality of life, and to lift their spirits through his music.



Among the world's oldest continuous musical traditions, Indian classical music dates back 5,000 years. Since its beginning, Indian music has undergone many transformations, with each new generation injecting fresh ideas and innovations while preserving the integrity and timelessness of its roots. This enduring art form is inextricably intertwined with the rich cultural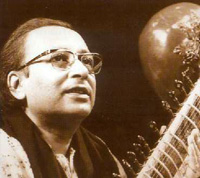 Unknown Photographer

history of India and the Asian subcontinent. Yet surprisingly, with few exceptions, this tradition has been little understood or appreciated outside India.

Since Ali Akbar Khan and Ravi Shankar's introduction to the West in the 1950s and 1960s, music enthusiasts have increasingly been drawn to the classical and traditional music of India. To date there is a paucity of film or video documentation available on Indian classical music. Very little that has been produced, including a few rather inadequate Indian television programs, sufficiently conveys the essence of this great musical tradition. In particular, there is virtually no media production in the West that has attempted to recognize, examine, understand, or celebrate Indian music beyond Ravi Shankar. No television documentary has done justice to the great wealth and depth of individual artistry of other notable maestros such as Nikhil Banerjee.

Nikhil Banerjee was one of this century's greatest musical geniuses and primary exponents of Indian classical sitar. As a dedicated musician, educator and cultural ambassador, he played a pivotal and essential role in stimulating international interest in Indian classical music. Nikhil Banerjee's remarkable skill and willingness to share his gift, along with many years of international touring, inspired and introduced many people to one of the world's oldest and most sophisticated musical traditions.

Nikhil Banerjee instilled wonder and amazement in those fortunate enough to experience his brilliance during his all too brief lifetime. Unfortunately, because he was rather introverted by nature and viewed media celebrity with disdain, only serious Indian classical music aficionados have had the opportunity to experience the magical sounds of his sitar. Very little has been documented about his life and music. Given his status as an extraordinary musician within the realm of the Indian classical tradition and world music culture, this is a tragic oversight.



THAT WHICH COLORS THE MIND©: THE LIFE AND MUSIC OF NIKHIL BANERJEE

will go a long way in rectifying this situation by creating a thorough and definitive portrait of the man, his music, and his enormous contribution to world culture. As popular music culture has increasingly become more sanitized, resembling an aural monoculture, there is a need to highlight and celebrate the wonderful cultural diversity that truly represents the creative human spirit. No one represents this spirit more than Nikhil Banerjee.



THAT WHICH COLORS THE MIND©: THE LIFE AND MUSIC OF NIKHIL BANERJEE is aimed at general adult, high school and university audiences, cultural historians, music academies, musicians, and music aficionados in all countries interested in learning more about one of the world's oldest continuous living musical traditions. It is designed to inform and inspire people around the world interested in music and world culture.



The completed documentary will be offered for broadcast to the national Public Broadcasting System (PBS) as well as local PBS affiliates throughout the United States. The Turner Broadcasting System (TBS), the Discovery Channel, A&E, the History Channel, HBO and additional cable television networks in the United States and Canada will also be approached. The video will also be offered to international television markets such as Channel 4 in Great Britain, the Nippon Television Network in Japan, the Australian Broadcasting Corporation, Television New Zealand, Doordarshan TV in India, Star TV, and other television markets throughout Europe and Asia. Copies of the completed documentary will be made available to universities, high schools, public libraries, and to expatriate Indian organizations in North America and Europe. Independent television and radio programs that specialize in international affairs and music will be sent copies of the completed documentary.

There will be extensive outreach to individuals, the music industry, academic societies, publications, organizations and associations interested in Indian and world culture through the use of promotional flyers, press kits, magazine ads, and the Internet. Special screenings of the documentary in conjunction with concert performances by notable Indian classical musicians will be scheduled throughout the United States, Canada, Europe, and India.

The documentary will be offered for sale via the Internet. User groups, Web sites and their appropriate Internet links will receive electronic notices regarding the documentary and how it can be purchased. Any special screenings or events will also be posted on the Internet.